Packing is as tiring as moving your home. However, packing is only a single task of the moving process. But it requires full attention. Start with de-cluttering items and end with sorting all items. It means you have to do many tasks in a very short time. This blog is specially designed to discuss an essential house packing checklist. After making this list, you will prepare yourself for a smooth move.
When Should I Start Packing – House Packing Checklist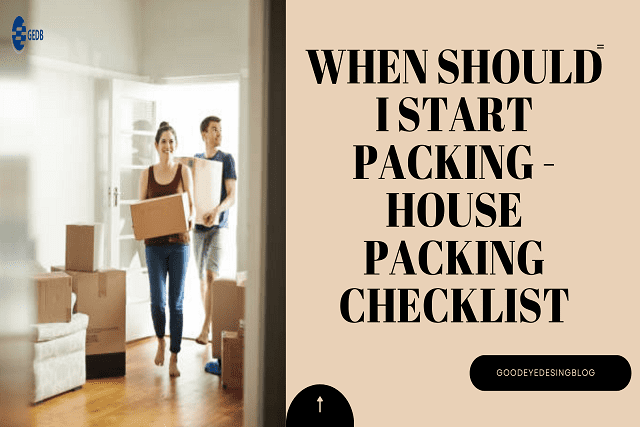 Ideally, it is good to start packing at least a month before. Make sure to set the date when you want to move. After that, make a checklist of items that you want to pack. So you will easily pack the items you want to bring with you.
Never go through each room for packing of items. Start from one room and add items to the house packing checklist. Then go to the next room and continue packing until all rooms are packed. Also, group your belongings as essential and non-essential. Remember packing is not an easy things and you have to think about lots of the things before making the decision. You can also hire professional movers to avoid this stress.
What Packing Materials Do I Need To Move the House?
Always bring moving boxes and supplies to pack all items. The supplies may be wraps, papers, tapes, and others. All these will ease your move after carefully packing items. For antique and sensitive pieces, use the right materials.
Getting Packing Supplies:
You have to arrange all the moving and packing supplies yourself. But in case you don't have any idea and time. Then you can search Google to help you. Before deciding must ask the company about following things:
Moving Boxes

Gummy labels

Brown Packing Sello-tape

Bubble wraps

Old newspapers

Marker pens

Stretch wraps
10 Essential House Packing Checklist for Safe Moving:
To make your packing process effective and more memorable. Consider the following 10 essential tips for packing for a house move. All these will assure you a safe move with proper packaging.
Start Packing Early
Never pack too late or on the last night. It will only give you stress for the whole night and moving day. Start packing items as early as possible, according to the house packing checklist. It is good if you start packing at least a month before. It will protect you from stress, and you can easily manage everything.
Book Removals as Soon as Possible
Always book removals as early as possible. It will help you to avoid extra costs which you need to pay if you book too late. Plus, you may coordinate with the Removal Company in case of any change in plan. Obviously, the company will not charge you more.
Pack Non-Essentials First
Before starting packing, separate all clothes and other items according to seasons. If anything is out of season and you don't use it as much. Then make sure to pack it first to save more time for essential things.
Get Rid of Unnecessary Items
Make your moving and packing process easier. It is only possible when you get rid of extra items. You may discard, sell, donate, and store these items.
Pack One Room at a Time
Packing items from all the rooms at a time is only tiring and confusing. Only pack items in one room at a time. So you will know which items belong to which room.
Roll Up Your Clothes
Rolling clothes saves more space to add more items to the box. However, it is an old trick, very effective in increasing space.
Don't Leave Extra Spaces
During packing, don't leave more space in the box. Some people leave more space to maximize storage area. But it is never recommended.
Keep Your Documents on You
Never pack your essential documents in a box. Keep all of them with you during the move. Its really important to pack your important documents very carefully. These documents may be any certificate and others.
Load Heavy Boxes Below, Light on Top
When you start loading moving boxes and supplies in the truck. Make sure to load all heavy boxes below and then place light boxes on top. This way, there will be no burden and fewer chances of breakage of items in lightboxes.
Organize Utilities Sooner
Make sure to organize all utilities as soon as possible. Contact the energy supplier and provider to inform them about the moving date. So they will easily and quickly make the switch.
Conclusion:
Have you created the house packing checklist? Go through all the above-mentioned tips to pack professionally.
Moving and packing for a house move is an exciting process. But it becomes challenging when you don't know what to pack. Most of the time, you forget to pack essential items. It results in rushing at the last minute. To overcome this issue and pack your items according to the checklist.